Posts for tag: tmd
By Michele Solis DDS. P.C.
November 21, 2015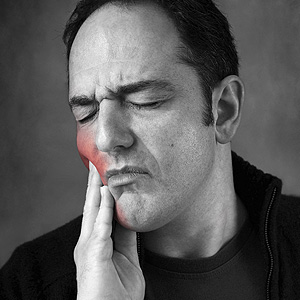 As many as 36 million adults in the U.S. suffer from some form of chronic jaw pain. What's more, many of these may also experience other painful conditions like arthritis or chronic fatigue in other parts of their body.
Chronic jaw pain is actually a group of difficult to define disorders collectively referred to as temporomandibular joint disorders (TMJD or also TMD). TMD not only refers to pain symptoms of the temporomandibular (jaw) joints but also of the jaw muscles and surrounding connective tissue. Most physicians and dentists agree TMD arises from a complex range of conditions involving inheritable factors, gender (many sufferers are women of childbearing age), environment and behavior.
A recent survey of approximately 1,500 TMD patients found that nearly two-thirds of them also suffered from three or more related health problems like fibromyalgia, chronic fatigue syndrome, rheumatoid arthritis, headaches, depression and problems sleeping. The understanding of TMD's connection with these other conditions is in its early stages of research, but there's avid interest among healthcare providers to learn more and possibly devise new treatments for TMD in coordination with these other related conditions.
In the meantime, TMD patients continue to respond best with the traditional approach to treatment, including physical therapy, thermal (hot or cold) compresses to the area of pain, medication and modifying the diet with more easier to chew foods. In extreme cases, jaw surgery may be recommended; however, success with this approach has been mixed, so it's advisable to get a second opinion before choosing to undergo a surgical procedure.
Hopefully, further study about TMD and its connection with other conditions may yield newer treatments to ease the pain and discomfort of all these conditions, including TMD. You can stay up to date on these and other developments for coping with the discomfort of TMD at www.tmj.org and through your healthcare provider team.
If you would like more information on TMD, please contact us or schedule an appointment for a consultation. You can also learn more about this topic by reading the Dear Doctor magazine article "Chronic Jaw Pain and Associated Conditions."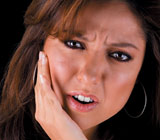 The term TMD means "Temporomandibular Disorder." But if you suffer from this disorder, it means pain. The pain can be mild or severe, acute or chronic, and it can appear to be centered in different locations, making it difficult to diagnose.
People who clench or grind their teeth because of stress often experience the pain of TMD. They might not even know they are engaging in these habits, because they do them subconsciously, for example when driving in traffic or engaging in vigorous exercise. Another cause of TMD might be an injury such as a blow to the jaw.
You can feel your temporomandibular joints working if you place your fingers in front of your ears and move your lower jaw up and down. On each side the joint is composed of an almond shaped structure at the end of the lower jaw, called the condyle, which fits neatly into a depression in the temporal bone (the bone on the side of your skull near your ear). A small disc between the two bones allows the lower jaw to move forward and sideways. The joints are stabilized by ligaments and moved by muscles.
TMD pain is the result of a process that begins when a stimulus such as psychological stress or an injury to the joint causes spasms (involuntary muscle contractions) in the muscles that move the joint. Blood vessels in the muscle begin to accumulate waste products, causing chemical changes and lactic acid buildup in the muscle. Nerves in the muscle then signal the brain to stop the movement of the jaw by registering pain.
TMD pain can appear to originate from various locations in your jaw, head, or neck. This is why it's important to make an appointment with our office for a professional assessment and diagnosis.
Treatment aims to relieve the symptoms of pain and discomfort and to prevent them from recurring in the future. Treatment can include heat, mild painkillers, muscle relaxants, soft diet, and simple jaw exercises, as well as education regarding the causes of TMD. To prevent further pain you may be provided with a "bite guard," or referred to relaxation training with a licensed therapist. A bite guard is designed to prevent the lower teeth from biting hard into the upper teeth. It is commonly worn at night, but can also be worn during the day if clenching and grinding are apparent.
If these simpler treatments do not solve the problem, we may recommend more complex procedures such as bite adjustment or, as a last resort, surgical treatment may be needed.
Contact us today to discuss your questions about TMD. You can also learn more by reading the Dear Doctor magazine article "TMD: Understanding the Great Imposter."