Posts for: January, 2019
By Michele Solis DDS.
January 19, 2019
What's your favorite winter sport? For some, it's all about swooshing down a snowy trail on skis, a board, or a sled. For others, the main attraction is skating at an ice rink or a frozen pond. If you're more of an indoors athlete, you may enjoy a fast-moving game of basketball or a round of squash. Or, you might take a turn on a climbing wall or a trampoline.
What do all these activities have in common? They're fun, they're great exercise…and they all come with a risk of injury to your teeth.
It's easy to see how a collision on snow or ice could result in a blow to the mouth. But did you know that basketball (along with hockey) is among the sports with the highest risk of facial injury? What's more, many "non-contact" sports actually have a similar risk.
Located front and center in the face, the incisors (front teeth) are the ones most likely to sustain injury. Unfortunately, they are also the most visible teeth in your smile. With all of the advances in modern dentistry, it's possible to restore or replace damaged teeth in almost any situation—but the cost can be high, both for present restoration and future preservation. Is there a better alternative?
Yes! It isn't sitting at home—it's wearing a custom-made mouthguard when there's a risk of facial injury.
Most people don't ski or play hockey without protective gear like a helmet. A mouthguard can effectively protect against dental injury that might otherwise be serious. Available here at the dental office, a custom mouthguard is made from an exact model of your own teeth, so it's comfortable to wear and fits perfectly—but no safety equipment can work if you don't use it!
So whether you like to hit the trails or the gym this winter, don't forget to bring a custom-made mouthguard. It's a small piece of gear that can save you from a big headache!
If you would like more information on mouthguards, please contact us or schedule a consultation. You can learn more by reading the Dear Doctor magazine articles "Athletic Mouthguards" and "An Introduction to Sports Injuries & Dentistry."
By Michele Solis DDS.
January 09, 2019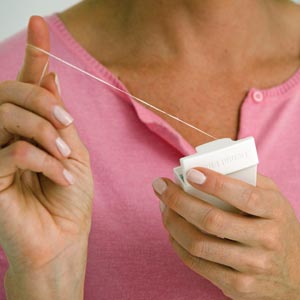 Now that we're into the New Year, it's a good time to look over your list of resolutions. Did you remember to include dental health on your list? Here's one simple resolution that can help keep your smile bright and healthy through the New Year and beyond: Floss every day!
Your oral hygiene routine at home is your first line of defense against tooth decay and gum disease. While brushing your teeth twice a day effectively removes much of the food debris and dental plaque from your teeth, brushing alone is not sufficient to remove all the plaque that forms on your teeth and around your gums. For optimal oral health, flossing once a day is also necessary.
Which teeth do you need to floss? Any dentist will tell you, "Only the ones you want to keep!" And yet according to a national survey of over 9,000 U.S. adults age 30 and older, nearly 70% don't floss every day, and nearly one third admit that they don't floss their teeth at all. Unfortunately, if you don't floss, you'll miss cleaning about a third of your tooth surfaces. When plaque is not removed, this sticky film of bacteria releases acids that cause cavities and gum disease. With dental floss, however, you can clean between the teeth and around the gums where a toothbrush can't reach.
Flossing is an essential component of good oral hygiene. Still, daily flossing seems to be a harder habit to get into than brushing. Some people tense up their cheek muscles while flossing, making it harder to comfortably reach the back teeth, so remember to relax as you floss. If unwaxed floss doesn't glide easily between teeth, try waxed floss. If you have trouble using traditional dental floss, you can try threader floss, which has a rigid tip, interdental brushes, floss picks, or a water flosser, which cleans by way of pressurized water.
It's not too late to add one more resolution to your list, and flossing is a habit that will go a long way toward keeping you in the best oral health. And along with good dental hygiene at home, regular professional dental cleanings and checkups are key to a healthy smile. If you would like more information about maintaining excellent dental health, please contact us or schedule a consultation. To learn more, read the Dear Doctor magazine articles "Daily Oral Hygiene" and "Flossing—A New Technique."