Posts for: September, 2015
By Michele Solis DDS. P.C.
September 22, 2015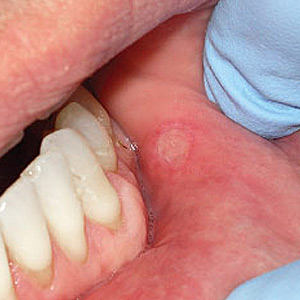 Do you ever get sores in your mouth that seem to appear for no reason and then disappear just as mysteriously? Chances are they're aphthous ulcers — better known as canker sores.
These are irritating breaks in the protective lining of the mouth (oral mucosa) — akin to a blister without its dome — that are yellowish/grayish in the center surrounded by an aggravated red border. They typically develop in movable, thinner oral membranes such as the cheeks and lips, under the tongue, or the soft palate at the back of the mouth. Because they expose underlying tissues, canker sores can be quite painful, especially when eating or drinking.
Recurrent aphthous ulcers (RAS) affect up to 25% of the population, making them one the most common oral conditions. They are considered "minor" when they are smaller and "major" when they exceed 1 centimeter in diameter. Larger ones take more time to heal and may cause scarring. A less common type is herpetiform aphthae, so named because the small clusters of ulcers that characterize it are similar in appearance to those caused by the herpes simplex virus (HSV1). However, unlike herpes-related cold sores and fever blisters, canker sores in any form are not contagious. Another difference is that ulcers from the herpes virus occur more frequently on the gums and hard palate.
No Clear Cause
There is no clear cause for canker sores. They often appear during stressful periods and times when resistance is down, suggesting an immune system malfunction. They may also be an allergic reaction to ingredients in food or oral products like toothpaste or mouthwash or related to an underlying medical conditions such as gastrointestinal diseases or nutritional deficiencies.
Canker sores usually resolve on their own within seven to ten days. Various over-the-counter and prescription treatments can help facilitate healing and help minimize pain along the way. If they do not resolve within two weeks; or they increase in severity, frequency or duration; or you're never without a mouth sore it's important to seek dental or medical attention as they could signify a more serious condition.
If you would like more information about canker sores, please contact us or schedule an appointment for a consultation. You can also learn more about the subject by reading the Dear Doctor magazine article "Mouth Sores."
By Michele Solis DDS. P.C.
September 07, 2015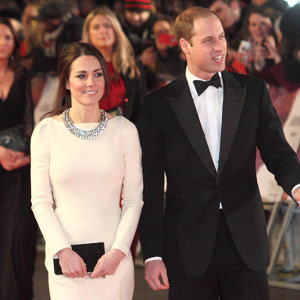 So you're tearing up the dance floor at a friend's wedding, when all of a sudden one of your pals lands an accidental blow to your face — chipping out part of your front tooth, which lands right on the floorboards! Meanwhile, your wife (who is nine months pregnant) is expecting you home in one piece, and you may have to pose for a picture with the baby at any moment. What will you do now?
Take a tip from Prince William of England. According to the British tabloid The Daily Mail, the future king found himself in just this situation in 2013. His solution: Pay a late-night visit to a discreet dentist and get it fixed up — then stay calm and carry on!
Actually, dental emergencies of this type are fairly common. While nobody at the palace is saying exactly what was done for the damaged tooth, there are several ways to remedy this dental dilemma.
If the broken part is relatively small, chances are the tooth can be repaired by bonding with composite resin. In this process, tooth-colored material is used to replace the damaged, chipped or discolored region. Composite resin is a super-strong mixture of plastic and glass components that not only looks quite natural, but bonds tightly to the natural tooth structure. Best of all, the bonding procedure can usually be accomplished in just one visit to the dental office — there's no lab work involved. And while it won't last forever, a bonded tooth should hold up well for at least several years with only routine dental care.
If a larger piece of the tooth is broken off and recovered, it is sometimes possible to reattach it via bonding. However, for more serious damage — like a severely fractured or broken tooth — a crown (cap) may be required. In this restoration process, the entire visible portion of the tooth may be capped with a sturdy covering made of porcelain, gold, or porcelain fused to a gold metal alloy.
A crown restoration is more involved than bonding. It begins with making a 3-D model of the damaged tooth and its neighbors. From this model, a tooth replica will be fabricated by a skilled technician; it will match the existing teeth closely and fit into the bite perfectly. Next, the damaged tooth will be prepared, and the crown will be securely attached to it. Crown restorations are strong, lifelike and permanent.
Was the future king "crowned" — or was his tooth bonded? We may never know for sure. But it's good to know that even if we'll never be royals, we still have several options for fixing a damaged tooth. If you would like more information, please contact us or schedule an appointment for a consultation. You can learn more by reading the Dear Doctor magazine articles "Repairing Chipped Teeth" and "Crowns and Bridgework."