Posts for: February, 2015
By Michele Solis DDS. P.C.
February 27, 2015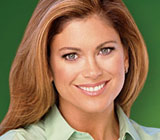 You may have seen Kathy Ireland on the cover of Sports Illustrated, but did you know that she is now a business mogul?
Through it all, Ireland has kept her model good looks, and that includes a bright, glowing smile. In a recent interview with Dear Doctor magazine she said that keeping her smile has required ongoing maintenance and more.
It seems that Ireland is a bit of a daredevil. She described a moment of fun with her children when she tried to stand in their wagon and "wagon surf" across her driveway. It ended badly when she crashed into her parked car and suffered a broken nose, split forehead and several broken teeth. "I learned that my love of adventure exceeds my coordination," she commented.
Ireland was born in Glendale, California in 1963. She demonstrated her drive to succeed early in life, starting at age 4 when she and her sister sold painted rocks from their wagon. Later she had a paper route. She began modeling at 17, with the goal of earning enough to pay for college or to start a business. In her successful modeling career she graced the covers of Glamour, Cosmopolitan, Harper's Bazaar and Sports Illustrated. Her first cover for Sports Illustrated, the publication's 25th Anniversary Swimsuit Edition, was the magazine's best-selling swimsuit issue to date.
In 1993 she founded her marketing and design firm, kathy ireland Worldwide. Now a billion-dollar industry, the firm sells fashions such as wedding gowns and bridesmaid dresses, as well as a wide range of items for home and family.
She has also written a number of books teaching others how to be successful — based on her own experience — as well as three children's books.
Discussing her oral health, Ireland says that she required serious professional assistance on more than one occasion. When she was a child she knocked out a tooth and later knocked it loose again. As an adolescent she wore braces for about three years. After the driveway incident she needed numerous veneers and dental implants to replace a lost tooth and restore her smile.
Her maintenance routine includes regular flossing and brushing, and she has her teeth cleaned every six months. She keeps up on her reading about the latest in research on dental health, and encourages her three children to floss and brush their teeth, to limit eating sweets and to do what they can to avoid injuries to their mouths and teeth.
Contact us today to schedule an appointment to discuss your questions about how to maintain your own smile. You can also learn more by reading the Dear Doctor magazine article "Kathy Ireland."
By Michele Solis DDS. P.C.
February 12, 2015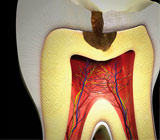 For years the main approach to treating tooth decay (or caries) could best be described as "drill and fill" — remove the decayed tooth material and fill the resulting cavity. But a new approach has come to prominence that addresses not only the results of decay, but seeks to identify and treat the underlying conditions that caused the decay in the first place, and may continue to infect other teeth.
This approach is known as Caries Management By Risk Assessment or CAMBRA. Rather than a "One Size Fits All" approach, CAMBRA individualizes treatment and prevention options by first assessing your own individual risk for tooth decay.
We base this assessment on what might be called the Caries Balance. On one side are factors that increase your risk of tooth decay, easily remembered by the acronym BAD: Bad bacteria that produces acid; Absence of healthy, functional saliva that neutralizes the effects of acid; and Dietary habits that are heavy with sugars, acids and between meal snacking. On the other side are protective factors that reduce your risk, known as SAFE — Saliva and sealants that protect the surfaces of teeth; Antimicrobials that help rid the mouth of bad bacteria; Fluoride, which strengthens teeth against de-mineralization caused by acid; and an Effective diet.
The assessment first involves a survey of questions about your hygiene habits, dental history and lifestyle: Do you brush twice and floss once daily? Do you live in a fluoridated area or use fluoride mouth rinse? Do you smoke? Have you had frequent cavities in the past? These and other questions, along with a complete dental exam and acid level testing, can give us a more accurate understanding of your risk and how best to incorporate treatment that reduces it even further.
Using CAMBRA, you and our dental team develop a true partnership that actually transforms your dental health from simply treating existing caries, to preventing future occurrences.
If you would like more information on the CAMBRA approach to caries prevention, please contact us or schedule an appointment for a consultation. You can also learn more about this topic by reading the Dear Doctor magazine article "Tooth Decay: How to assess your risk."