Posts for: September, 2014
By Michele Solis DDS. P.C.
September 23, 2014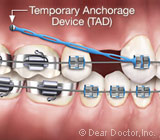 Braces are certainly the most recognized means for moving misaligned teeth. But depending on your or your family member's particular malocclusion (bad bite), your orthodontist may also include other "anchorage" appliances to achieve the best results.
We can move teeth because of a mechanism that already exists in the mouth. The periodontal ligament, which holds teeth in place by attaching the tooth surface to the jawbone, allows teeth to move if needed in response to biting forces or normal tooth wear. Using braces or similar appliances, orthodontists can apply gentle but constant pressure to move teeth to new and better positions.
This applied pressure, however, soon encounters an "equal and opposite reaction," in accordance with Newton's third law of motion. In a way, we're playing tug-of-war with the periodontal ligament — and as in the playground game, the key to "winning" is having the stronger point of resistance, something we call anchorage.
We often use the teeth themselves to establish this anchorage with the help of elastics (rubber bands) attached at various locations in the braces. Sometimes, though, the situation requires a different form of anchorage. In a younger patient, for example, we may want to influence the facial structure's growth and development along with tooth movement. In this case we might use the patient's skull for additional anchorage by having a strap running around the back of the head that attaches to brackets affixed to the teeth.
Another method involves a temporary anchorage device (TAD) directly implanted into the jawbone. We use TADs to isolate teeth we want under pressure from teeth we don't (as with moving front teeth back without causing the back teeth to move forward). Usually made of stainless steel that won't fuse with bone, TADs are relatively simple to remove once treatment is complete. Another form of anchorage is a titanium micro-implant, a miniature version of a dental implant that's also inserted into the bone; like its larger relative, micro-implants fuse with the bone to add greater stability. Their diminutive size, however, eases any difficulty in their eventual removal.
Though some of these appliances aren't visually appealing, they are temporary in nature and only applied for as long as needed. The end result, though, is permanent — beautifully aligned teeth that perform well and look great.
If you would like more information on orthodontic appliances, please contact us or schedule an appointment for a consultation.
By Michele Solis DDS. P.C.
September 08, 2014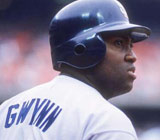 What would it take to get you to give up tobacco? For major league baseball player Addison Reed, it took the death of his former coach, Tony Gwynn. Gwynn, a Hall-of-Famer who played for the San Diego Padres in addition to coaching at San Diego State, was just 54 years old when he died of oral cancer. As soon as Reed heard the sad news, the Arizona Diamondbacks' relief pitcher says he knew what he needed to do: He took every can of smokeless tobacco he owned and dumped them all in the trash.
"It's just become a habit, a really bad habit," Reed told an interviewer at MLB.com. "It was something I always told myself I would quit." But quitting took him many years — in fact, Reed admitted that he first started using smokeless tobacco as a junior in high school.
People begin using tobacco — in the form of cigarettes, cigars, pipes, or smokeless types (snuff, chewing tobacco, or dip) — for a variety of reasons. One major draw is that they see others doing it. And, while smoking is prohibited in most all Major League venues, the use of smokeless tobacco has remained fairly widespread.
Smokeless tobacco isn't a safe alternative to cigarettes. According to the National Cancer Institute, it contains 28 carcinogenic agents. It increases the risk not only for oral and pancreatic cancer, but also for heart disease, gum disease, and many other oral problems. It's also addictive, containing anywhere from 3.4 to 39.7 milligrams of nicotine per gram of tobacco — and its use has been on the rise among young adults.
But now the tide may be turning. After Addison Reed's announcement, his former college teammate Stephen Strasburg (now a pitcher for the Washington Nationals) resolved that he, too, would give up tobacco. "[The] bottom line is, I want to be around for my family," said Strasburg. Mets left-hander Josh Edgin has vowed to try quitting as well. It's even possible that Major League Baseball will further restrict the use of smokeless tobacco at games.
What does this mean for you? It may just be the opportunity you've been waiting for… to stop using tobacco. Dentists have seen how quickly oral cancer can do its devastating work — and we can help you when you're ready to quit. The next time you come in for a checkup, ask us how. Your teeth and gums will thank you — and your family will too.