Posts for: July, 2014
By Michele Solis DDS. P.C.
July 17, 2014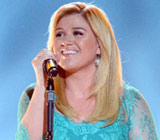 Now that celebrities can communicate directly with their fans through social media, we've started to see dispatches from some surprising locations — the dental chair, for example! Take singer Kelly Clarkson, who was the first winner of American Idol, and perhaps one of the first to seek moral support via social media before having an emergency root canal procedure.
"Emergency root canal — I've had better days," Kelly posted on her Facebook page, along with a photo of herself looking… well, pretty nervous. But is a root canal procedure really something to be scared about? It's time to clear up some misconceptions about this very common dental procedure.
First of all, root canal treatment is done to save a tooth that might otherwise be lost to an infection deep inside it. So while it's often looked upon with apprehension, it's a very positive step to take if you want to keep your teeth as long as possible. Secondly, tooth infections can be painful — but it's the root canal procedure that stops the pain. What, actually, is done during this tooth-saving treatment?
First, a local anesthetic is administered to keep you from feeling any pain. Then, a small opening is made through the chewing surface of the infected tooth, giving access to the central space inside, which is called the "pulp chamber." A set of tiny instruments is used to remove the diseased pulp (nerve) tissue in the chamber, and to clean out the root canals: branching tunnel-like spaces that run from the pulp chamber through the root (or roots) of the tooth. The cleared canals are then filled and sealed.
At a later appointment, we will give you a more permanent filling or, more likely, a crown, to restore your tooth's full function and protect it from further injury. A tooth that has had a root canal followed by a proper restoration can last as long as any other natural tooth — a very long time indeed.
If you have any questions about root canal treatment, please contact us or schedule an appointment for a consultation. You can learn more by reading the Dear Doctor magazine article "A Step by Step Guide to Root Canal Treatment."
By Michele Solis DDS. P.C.
July 02, 2014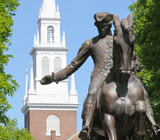 How much do you really know about Revolutionary War hero and famous disturber-of-the-peace Paul Revere? Take this quiz and find out! True or False:
Paul Revere cried "The British are coming!"
Paul Revere rode to Concord, Massachusetts.
Paul Revere practiced dentistry.
The first two answers are false: Revere, like most colonists, considered himself British at the time (but might have said "the regulars" are coming); and he never made it as far as Concord, though one of his midnight-riding companions did. The last statement, however, is true: When things got slow in his regular trade of silversmithing, Revere hung out a shingle to broadcast his skills as a dentist.
"Paul Revere can fix [teeth] as well as any surgeon dentist who ever came from London, he fixes [dentures] in such a manner that they are not only an ornament but of real use in speaking and eating," his advertisement in a Boston newspaper is supposed to have read. Revere specialized in fitting dentures made of metal and walrus ivory in his patient's mouths. (There is no record, however, that he ever worked on George Washington's false teeth.)
The practice of dentistry has come a long way since 1776. But the ideal set of dentures — one that's both aesthetically pleasing and fully functional — remains a valid goal today. But now, instead of going to a metalworker, you'll visit a denture specialist: your dentist.
We understand that dentures need to have a perfect, comfortable fit so they can do their work. That's why we take the time to make an individual mold of your mouth as the first step of the process. Then we choose prosthetic teeth in the shape, size and shade that's right for you. When everything is satisfactory, the dentures will be custom-fabricated in a dental laboratory using high-quality materials that are lifelike and durable. Finally, we will make sure that your new dentures look, feel and function the way they should.
If you have older dentures that no longer fit as they should, come in to our office for a check-up. It's sometimes possible to repair or re-line dentures; in other cases, it's best to have a new set made. Ill-fitting dentures aren't just uncomfortable — they can also lead to oral infections and nutritional difficulties.
For more information about dentures or denture repair, please contact our office to schedule a consultation. You can learn more in the Dear Doctor magazine articles "Loose Dentures" and "Removable Full Dentures."