Posts for: June, 2014
By Michele Solis DDS. P.C.
June 17, 2014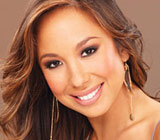 Growing up with a dentist stepdad, Cheryl Burke of Dancing with the Stars heard a lot over the years about the importance of good oral hygiene — in particular, the benefits of using dental floss.
"My dad would say, 'make sure you floss,' but I never really listened to him. I was very, very stubborn," Cheryl told Dear Doctor magazine recently in an exclusive interview. Cheryl admits this stubbornness took its toll, in the form of tooth decay. "I definitely had my share of cavities," Cheryl recalled.
Cavities can form when food particles, particularly sugar and carbohydrates, are not effectively cleaned from the spaces between teeth. These particles are then broken down by bacteria naturally present in the mouth, resulting in the production of acids that attack the tooth enamel.
When she reached her twenties, Cheryl decided she really needed to step up her oral hygiene and cultivate an asset so important to a professional dancer: a beautiful smile. And once she did, cavities became a distant memory.
"I think when you do floss frequently, it helps to reduce the chances of getting cavities," Cheryl said. "It took me a while to figure it out." Now Cheryl flosses after every meal. "I carry floss with me wherever I go. I have no shame busting out my floss in the middle of a restaurant!" She declared.
Dental decay is actually a worldwide epidemic, especially among kids. Untreated, it can lead to pain, tooth loss, and, because it is an infectious disease, it may even have more serious systemic (whole body) health consequences. The good thing is that it is entirely preventable through good oral hygiene at home and regular professional cleanings here at the office.
If it has been a while since you or your children have seen us for a cleaning and check-up, or you just want to learn more about preventing tooth decay, please contact us to schedule an appointment for a consultation. If you would like to read Dear Doctor's entire interview with Cheryl Burke, please see "Cheryl Burke." Dear Doctor also has more on "Tooth Decay: The World's Oldest & Most Widespread Disease."
By Michele Solis DDS. P.C.
June 02, 2014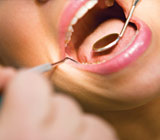 Lose a baby tooth when you're a young kid, no big deal — you'll grow another. Lose a permanent one and there's cause for concern. For one thing, tooth loss is often a symptom of an underlying oral health problem, such as tooth decay or gum disease, so it's important to identify the cause and treat it to prevent it from progressing. It is equally important to replace the tooth — not simply for the immediate impact it can have on your smile or bite, but for long-term function, esthetics and the health of the bone that supports your teeth.
The primary options for tooth replacement are fixed bridgework and dental implants. Both result in esthetically pleasing outcomes; the main difference is how each is attached. With a bridge, the replacement tooth, referred to as a "pontic," uses the two natural teeth on either side of the gap — referred to as "abutments" — for support. The pontic is sandwiched between two other crowns, which fit over and are bonded or cemented to the teeth on either side of the gap. To ensure the companion crowns fit properly, the enamel must be removed from each abutment.
Placing dental implants, by contrast, involves working only on the affected area. The "implant" is actually a small titanium rod with spiraling threads just like a miniature screw that is carefully inserted into the jawbone as though it were a natural root. The replacement tooth, a customized crown, is secured to the end portion of the implant by way of an intermediary referred to as an abutment, which firmly anchors it in place.
Both bridges and implants are natural looking, functional, predictable, and reliable. Each has its advantages and disadvantages, and based on your oral health, one may be more appropriate than the other.
If you would like more information on tooth loss and replacement, please contact us or schedule an appointment for a consultation. You can also learn more about this topic by reading the Dear Doctor magazine articles "The Hidden Consequences of Losing Teeth" and "Dental Implants vs. Bridgework."