Posts for: March, 2014
By Michele Solis DDS. P.C.
March 25, 2014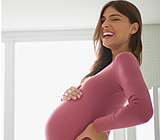 A woman during pregnancy naturally pays close attention to her general health, instinctively knowing it affects her developing baby. Ironically, it's also common for a woman during pregnancy to neglect her dental health, due to new physical restraints and fatigue that make regular tasks more difficult and tiring.
But pregnancy is no time to drop your guard: due to hormonal changes, a woman is more susceptible to disease and tooth decay. This can lead to increased sensitivity and gum inflammation that may develop into what's known as pregnancy gingivitis. This is of great concern during pregnancy, as the oral bacteria responsible for gum disease can cross over from mother to baby through the placenta. This could cause an inflammatory response by the mother's body that might result in a preterm birth with a low birth weight for the baby.
There are some things you should do to maintain vigilance. First, you should schedule an appointment with us at the beginning of your pregnancy to discuss and prepare a dental care plan. We can advise you more fully about how pregnancy affects your dental health and what we can both do about it.
A healthy diet from the beginning and throughout pregnancy will provide your child with the nutritional building blocks for his or her developing teeth, which begin to form around the sixth week. You may also develop cravings for certain foods, especially sugary or starchy snacks, which increase your risk of tooth decay. If at all possible, try to limit your intake of these kinds of foods or substitute raw fruits, vegetables or dairy products instead.
Oral hygiene is critical during this time in your life. Daily gentle brushing with a soft bristle toothbrush and flossing will help reduce the level of bacteria that causes gum inflammation. And, if you do notice sensitivity, swelling or bleeding from the gums, you should visit us as soon as possible for examination and treatment. It's also very important during your pregnancy that you schedule regular cleaning appointments. Because of hormonal changes, it's common for gum inflammation to become exaggerated making you more vulnerable to bone loss.
Remember: caring for your oral health when you are pregnant is just as important for your baby as it is for you.
If you would like more information on the relationship between pregnancy and oral health, please contact us or schedule an appointment for a consultation. You can also learn more about this topic by reading the Dear Doctor magazine article "Pregnancy and Oral Health."
By Michele Solis DDS. P.C.
March 10, 2014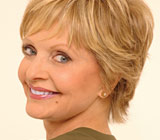 Life lessons are learned in the most surprising places. This is no different for celebrities. Take, for example, Florence Henderson, an actress, singer, philanthropist, author and star of the hit television series, The Brady Bunch. As she told Dear Doctor magazine, her experience with having four impacted wisdom teeth removed — at the same time — "...only made me more aware of how important dental care is." She continued, "This is why I have always gone every six months for a check up."
Another important lesson we want to share is the fact that even if your impacted third molars (wisdom teeth) are not bothering you or causing any pain, you may still need to have them removed.
Why? Having a tooth submerged below the gum, pressing on the roots of other teeth is problematic; the tooth should be removed so that you can avoid major dental problems before they occur. For example, it is not uncommon for us to find an impacted third molar pressing against the roots of the adjacent second molar. Furthermore, because the enamel crown of this impacted tooth is trapped below the gum, we sometimes find an infection, gum disease or even cyst formation occurring.
Often, the best time to remove a wisdom tooth is when it is not causing any problems. This is because a painful wisdom tooth or pain in the area of the wisdom tooth may be a sign that significant damage has occurred or is occurring. It is also better to remove wisdom teeth when you are young, as young healthy people with no prior infections at the site provide the best opportunity for us to remove the tooth with no complications.
To learn more about impacted wisdom teeth, continue reading the Dear Doctor magazine article "Removing Wisdom Teeth." Or if you suspect or already know that you have an impacted wisdom tooth, contact us today to schedule an appointment so that we can conduct a thorough examination that includes x-rays. During this private consultation, we will also address any questions you have as well as your treatment options. And if you want to read the entire article on Florence Henderson, continue reading "Florence Henderson."