Posts for: February, 2013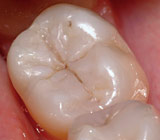 Until recently anyone who needed to repair cavities in his or her teeth ended up with a mouth full of "silver" fillings. Dental amalgam, which has a silver appearance, was the tooth restoration material of choice. Amalgam, a combination of metals including silver, mercury, and other metals, is still used — but today there are other options that mimic the original teeth they are restoring.
You may have read about some people's concerns about the mercury used in dental amalgam. According to the American Dental Association (ADA), scientific studies have found no ill effects arising from using dental amalgam in fillings for adults or children: "While questions have arisen about the safety of dental amalgam relating to its mercury content, the major US and international scientific and health bodies, including the National Institutes of Health, the US Public Health Service, the Centers for Disease Control and Prevention, the Food and Drug Administration and the World Health Organization, among others have been satisfied that dental amalgam is a safe, reliable and effective restorative material." Dental amalgam is still used for molars (back teeth) that must withstand heavy pressure from chewing.
For teeth that are more visible, materials that look and perform more like the original teeth — and are thus more pleasing in appearance — are now available. Dentistry is now taking a "biomimetic approach" (from words meaning "life mimicking"). The new materials — composite resins and porcelains — look like teeth because in many ways their structure imitates the biologic structure of teeth.
Composite resins are made of a plastic material (methacrylate) combined with fillers made of silica, a form of glass. They are able to bond to natural tooth structure and resemble the dentin, the inner layer of the tooth, which has a porous structure similar to bone.
Dental porcelains are a form of ceramic. They are non-metallic materials formed by the action of heat, like the ceramics used in porcelain cups and bowls. They come in a powder form that is mixed with water, shaped, and then placed in an oven until they reach the proper hardness. The end product is translucent and very hard, resembling the densely packed crystals of calcium that make up a tooth's normal outer layer, the enamel.
The old amalgam fillings required removal of tooth material to prepare a site in which they could be placed. Composite resins and porcelains can be used to treat teeth that have small or large amounts of damage to their natural substance because the materials bond directly to the remaining dentin and enamel. Thus they end up stabilizing and strengthening the restored tooth, as well as providing a natural-looking appearance.
Contact us today to schedule an appointment to discuss your questions about tooth colored fillings. You can also learn more by reading the Dear Doctor magazine article "The Natural Beauty of Tooth Colored Fillings."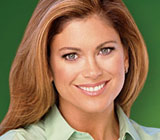 It is not often that you find a celebrity who is willing to speak candidly about any cosmetic or restorative dentistry that he or she has had. Instead, most prefer that their fans just assume that their dazzling "Hollywood" smile is something that just happened naturally. However, that is not the case with Kathy Ireland, the former Sports Illustrated cover girl, current business mogul and founder of kathy ireland Worldwide, a billion dollar marketing and design firm. In a Dear Doctor magazine cover story she talks openly about her dental experiences, injuries and treatment so that people worldwide can understand what may be possible for them.
For Kathy, it happened several years ago when she was playing with her husband and children in their driveway. Kathy decided that she would stand in her children's wagon and surf across their driveway. Instead, she ended up "face-planting," as she describes it, in a freak accident that left her with a broken nose, split forehead and several broken teeth. She recalls that it sounded like a watermelon had smashed. Luckily, her husband, an emergency room physician, was on hand to care for her. Kathy is just as thankful to her cosmetic and restorative dentist who restored her trademark smile with some veneers and a dental implant. Today, the only reminder she has from this accident is a small scar on her nose that she covers with a little makeup.
You would think that this accident would be enough trauma for one person; however, Kathy describes an earlier accident where she knocked out a tooth and then later knocked it loose again. Kathy also wanted to take the time to let readers know that her dental implant experiences were "pretty easy." She did recall, "hearing all the sounds while all of it was going on" and then added, "but I have to tell you, that after being a mom and having kids, going to the dentist...is like going to the spa!" She said that she has even fallen asleep in the dental chair.
To learn more about Kathy Ireland, continue reading the Dear Doctor magazine article "Kathy Ireland." Or if you think cosmetic or restorative dentistry is right for you, contact us today to schedule an appointment to discuss your specific goals.